Few people can say they've had as remarkable a career path as Tony Banks.
ABERTAY UNIVERSITY
biography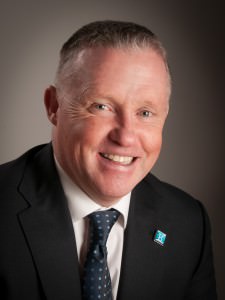 Tony Banks is an award-winning businessman, entrepreneur, strategist and philanthropist who is passionate about healthcare, entrepreneurship and equality. A former Para and Falklands War veteran, he has a portfolio of business investments, the most notable being the award-winning Scottish based Balhousie Care Group. Tony is a published author (Storming the Falklands) and an active and influential player in the business community.
history
Born in Dundee in 1961 to an RAF logistics sergeant and a housewife, Tony grew up with a strong work ethic. While at school he worked as a paper boy, a refuse collector, an electrician's assistant and a raspberry picker before leaving at 17 to take a course in accountancy at Dundee Institute of Technology (now Abertay University). It weas there that Banks joined the Territorial Army Parachute Regiment. This taste of Army life was enough o persuade him to abandon his studies and take up a full-time career in the Army.
In 1982 Bank, as part of the 2nd Battalion, Parachute Regiment was deployed during the Falklands War. His regiment was eth first to land and the first to win a major battle. Over the course of the war, he participated in is several key battles. Tragically, he was also to witness the death of one of his closest friends. After the war had come to an end Banks served in the Parachute Field Ambulance service before a short stint as an insurance salesman when he returned to civilian life.
business
In 1991 Banks purchased his first care home, Balhousie Lisden, a converted country house in Kirriemuir, Angus. Over the past thirty years Banks has grown the Balhousie Care Group into an award-winning care provider serving 1000 residents across 26 care facilities in Scotland and employing over 1400 people. Balhousie Care Group continues to be a pioneer in person-centred care and an innovative leader in its field. Tony's other business interests include funeral care, construction and property development, technology applications and medicinal marijuana.
media
In 2010 filmed Banks a documentary for the BBC called 'From War to Peace'. It followed Tony's journey to Argentina to return a trumpet that he had taken as a war trophy from an Argentine prisoner of war called Omar Tabarez. In 2012 he followed this up with Storming the Falklands: My War and After a book charting his experience of the Falklands War, his struggles with combat-related stress and his journey to personal redemption.
Tony appeared on Channel 4's award-winning series, The Secret Millionaire in 2009. He spent time living in the Whitefield estate in Dundee, getting to know some of the residents and donating money to those he met who were in need. When the cameras were not rolling, Banks went on to donate to some of the organisations he encountered during filming such as Daisy UK.
philanthropy
As a leading employer in Scotland, Tony is a passionate advocate for quality healthcare and social justice. As well as his support for those he encountered on The Secret Millionaire, he is also a significant donor to the charities Combat Stress and The Stroke Association. Banks currently serves on the board of the Scottish Entrepreneurial Exchange. He is one of James Caan's Millionaire Mentors for the Entrepreneurs' Business Academy. In 2011 Banks was one of 12 recipients in Scotland of the Ernst & Young Entrepreneur of the Year award. He was also a finalist for Fundraiser of the year 2011 at the Daily Record Hero Annual Awards. He was a founding member of Business for Scotland.
Most recently, during the Coronavirus Crisis, Tony has been widely published and broadcast for his strong views on the need for Government support for care homes, including mass staff testing – now commonplace in the sector.
books by Tony Banks
[A] visceral, fast-paced, no-holds-barred autobiography . . . Strongly recommended
Neil Faulkner, Military History Monthly
A vivid, thoughtful book
Herald magazine
A harrowing first-hand account
Daily Mirror